Smart plastic from Algae is a win win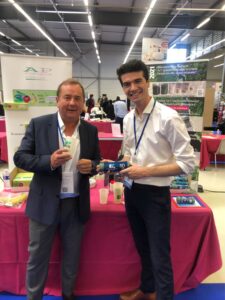 Huge congratulations to Alternative Plastics for winning the Carrefour Innovation Prize 2021 with their Alg&Bag garbage bag range. The competition is organised by Carrefour for small and medium sized companies, and this year saw over 500 companies competing for prizes in 8 categories.
As well as the kudos that comes with winning this prestigious award, the Alg&Bag garbage bags will increase their visibility with a place on the shelf of Carrefour supermarkets in France. Carrefour is one of the largest retailers in the world operating a chain of hypermarkets, groceries, and convenience stores in over 30 countries.
The Alg&Bag garbage bags are made in France with Eranova's green algae formulation, which is a bio-polymer formulated from green algae collected from French beaches.
The bags are a great example of the Circular Economy and environmental responsibility in action. Green algae is an environmental nuisance which pollutes beaches across France and other places in the world. It is not only an eyesore, but the build-up can be toxic, causing beaches to be closed.
The products have been designed to be fully recyclable with the existing waste stream of fossil based polymers, so will not disrupt the recycling process.
It is hoped that the biobased polymer produced from the algae can help to reduce the impact of fossil fuel based plastics by utilising a pollutant,  to create a new generation of bioplastics without depending on valuable food crops.
Symphony's CEO, Michael Laurier said, 'We are delighted with our collaboration and distribution agreement with Eranova, announced in September last year. This innovative technology looks very promising, and we are excited to see how it develops.'